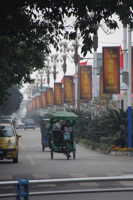 As the delegation returned to our hotel in smoggy dusk a lime green rickshaw was playing chicken with a big tan BMW 7 sedan. Some unseen signal passed between the cyclist and driver and the tangle resolved itself smoothly; the perfect metaphor for my adventures in China last week.
The country is a fascinating jumble of the old and new, the Chinese are inventing new ways of working together on the fly in the midst of unprecedented growth and change. The whole country smells of wet concrete. Construction is everywhere.
In the spirit of "Beginners Eyes" I've captured in this post a few of the things that caught my attention over my 6 day visit. We'll be making an announcement soon about the business venture we worked on, but in this initial post I'll focus on my personal experiences.