What do Web 2.0 and Social Networking mean for Education Publishing? On February 7th I was on a panel at the Association of American Publishers (AAP) in Sacramento that tackled this question.
Ann Flynn Director of Education Technology at National School Boards Association (NSBA) reviewed the excellent study they released last fall that explored how these tools are being used in schools.
Sheryl Abshire CTO from Calcasieu Parish School System in Lake Charles, Louisiana talked about they are handling the very real complications that come with introducing these disruptive technologies into schools and classrooms.
My talk focused on why these tools are so wildly popular. If Web 2.0 tools are solutions – what problem are they solving?
In a nutshell – we have moved from a world of information scarcity to a world of information overload. People are adopting these tools because they help them focus their scarce attention on things that are relevant to them, and they know they are relevant because they have been vetted by their collaborative network of peers.
Regular readers will recognize many of the themes from the Information Overload series I did last fall.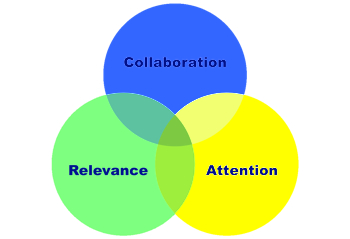 For those who are interested here are my slides AAP Lee Wilson-1.ppt (3.8 meg file – lots o' graphics). [Update – Link Fixed]
Related blog posts: