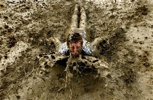 Moodys* has completely withdrawn credit ratings for Houghton Mifflin Harcourt (HMH) after downgrading it to high risk just last month. This action means Moodys believes there is a high probability of default. From a practical standpoint this means that it will be harder and more expensive to service the company's $6.7 billion in debt on $2.1 billion in revenue.
According to the Irish Times the rationale was:
"the business risk and competitive position of the company versus others within its industry; the capital structure and financial risk of the company; the projected financial and operating performance of the company over the near-to-intermediate term, and management's track record and tolerance for risk,"
Ouch.
The timing is particularly inauspicious as stimulus funds for education are just starting to show up in purchases of instructional materials. This should accelerate rapidly into June and July.
If the company is going to fail, it is in the interest of schools and the publishing industry that it happen as gracefully as it can. Many of the lenders have already agreed to relaxed terms which is a good sign.
How HMH would break up and be absorbed by the other industry leaders is an interesting question. There would be obvious questions about anti-trust issues since so much consolidation has already occurred in the industry. The many venerable imprints and popular materials would continue to hold value so they would ultimately find a home, probably with some kind of private equity play. The question would be at what price in this market?
Hopefully for all our friends at HMH the tide will turn once the ARRA money is flowing.
*Moodys requires a free account to access information on their site.