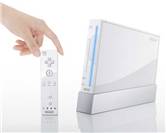 Where are breakthrough products like the Wii in education? Textbooks and education technology are stuck in a rut. Just like Sony and Microsoft got locked in a war over processor speeds and cutting edge graphics most of the competition in the education market seems increasingly focused on tangential issues to the customer's core needs. For example…
* More foil on the cover!
* On-line lesson plans!
* 4 million item bank questions!
These efforts all mask the underlying problem. With everyone writing to the standards for the same 4-5 states textbooks are becoming a low growth zero sum commodity game. In an attempt to differentiate their basal textbooks the major publishers are increasingly cannibalizing their supplemental book bags for "free with order" goodies. They are also bolting technology on in an attempt to sex up the offerings.