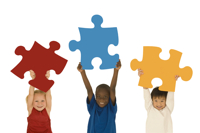 Student Information Systems (SIS) and Data Warehouses (DWS) are the bedrock enterprise software systems in K12 school districts. The K12 Decision Support Systems Market Report is now available. The 118 page report is based on a survey of over 300 district level IT Directors.
ARRA Accountability Market Intelligence
Given the strong emphasis in ARRA on data-driven decision making (D3M) and accountability auditing, the information in this study will provide valuable insight into a market with an urgent and well funded need. The report is a map of territory that has been uncharted.