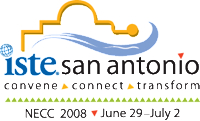 ISTE's NECC 2008 was a success by any measure. The sibilant susurration of schmoozing and selling suffused the show space. Attendance was high (12,250), sessions were well attended (over 924), and the show floor was constantly busy. Even the San Antonio weather cooperated by being a bit cooler than usual.
If you landed on the planet on Sunday and came straight to NECC you would have no sense of the pressure on education budgets that the economic downturn is creating.
Some of this is attributable to Texas, which as an oil producing state is having a milder downturn that many parts of the country. Typically 50% of attendees at national trade shows are from within in 200 miles (double that for Texas). But that doesn't explain all of it since according to the official numbers Texas attendees only made up 25% of the total.