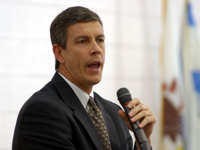 When Secretary of Education Arne Duncan made room in his schedule on short notice to keynote the Council for Exceptional Children's annual convention in Nashville this week it sent a clear message that students with special needs will be front and center in policy decisions from the Obama Administration.
The biggest message was his presence. It left no doubt about how seriously Obama and he feel about improving the lives of students with disabilities. This was welcome because much of the work they have done in this area so far has not been particularly visible.
He laid out a vision for the Administration's education legislative priorities and the central role that serving people with disabilities will play in ESEA (aka NCLB). The linkages between ESEA and IDEA that were created during the era of No Child Left Behind (NCLB) will also be strengthened and improved.