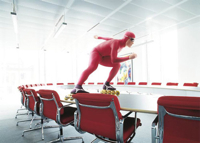 What is the best way to break into education publishing? If you are young and starting out what launching pads set you up well for a career in the world of instructional materials and software?
I'm bullish in the industry and think we are in one of the most creative and fascinating eras as traditional print publishing blends with digital production and distribution. There is going to be a huge amount of disruption but there will be an enormous amount of opportunity in the midst of all the changes.
In the first part of this series I focused on the best ways to prepare and organize your search. Today I turn the focus on what kinds of jobs industry entrants should consider.