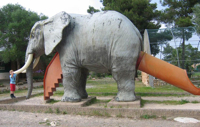 Fresh hot blog links to education topics here. These are some of the posts that caught my attention recently – enjoy.
Facebook for Teachers. This article is sad – lots of promise and money invested by people who just don't get it. One district can not support their own social network – it takes hundreds of thousands of users to make these communities vibrant. How about we look at what is actually happening on Facebook for teachers? I Am Teacher – a Facebook plugin from We Are Teachers – already has almost 10,000 active users and over registered 50,000 users.
Video Games Improve Cognitive Skills. The title says it all. Go read about it on Richard Carey's blog.