PCI Education got a new President & CEO last week. This is a big change across many aspects of my life but I believe it is the right move for the company and for me.
The official announcement is here.
About PCI Education
PCI is focused on the Special Education and Struggling Learner markets in the US and Canada and is known as the one-stop-shop for SPED solutions. The company has a huge catalog presence in schools and is rapidly growing new channels on-line and in the field. The main office is in San Antonio (Google has the address a couple of blocks off the actual location).
Why I'm Making This Change
I've always done my best work in large long-term change initiatives (Apple, Chancery, Pearson, and Harcourt). When PCI approached me about this opportunity I was working with them as a consultant and I wasn't looking for a new gig. The more I learned about the company and what they needed I realized that PCI is extremely well positioned for growth and that my skills are good fit with what the company needs.
PCI is wrestling with the same structural dislocations affecting every education publisher.
A move to district decision-making resulting from NCLB which is changing distribution and selling models
A concomitant move to more comprehensive solutions which is changing product development priorities
Customer demand for blended technology and print solutions which is creating demand for new blends of expertise in editorial
A society wide move to on-line purchasing which is affecting how we market and expectations for rapid response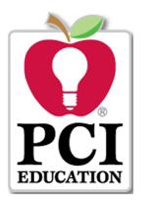 PCI's new comprehensive reading program is building up a head of steam and goes a long way to addressing the first two issues. Much of the consulting work I've done recently has focused on the tech/print blend and PCI's initiatives in this area promise to break new ground. The company also has a well-designed web platform as customers transition from catalogs to on-line purchasing. Regular readers know that this is a subject near and dear to me.
But on top of this we have the economic meltdown. The stimulus which just passed last week has over $12 billion targeted at Special Education and another $13 billion for Title 1. As noted elsewhere on this blog most of this money will go to keeping teachers employed, but it also promises to keep the flow of materials for struggling learners.
Companies that provide products with a one-time purchase that target core subject areas and can be purchased with Title 1 or IDEA funds should do very well indeed.
PCI, because of the students it serves, will get some lift in a tough time.
What Happens To This Blog?
The short answer is nothing right away. I'll continue to post on issues that matter to the education publishing industry. You will probably see more guest bloggers – but I happen to think that is a healthy evolution. Some of the top posts from the past year were by people like Randy Wilhelm and Doug Stein.
Will I be more circumspect in some of my utterances? I hope not. Blogging is an intensely personal medium when it works and I'll continue to state my mind. I will try be clear when I'm speaking for myself and when I'm opining on issues that affect PCI so you can make your own judgments about bias. If you have any question about this don't hesitate to drop a comment in.
What Happens To My Consulting Practice?
Naturally I can't keep consulting if I'm in a full-time role. I've already transitioned most of my clients. I will continue to keep a hand in a couple of coaching projects that I can fit in around my schedule. If you are looking for consultants in the areas I've been serving please contact me and I'll pass along the names of people I respect and trust who do similar kinds of work.
Am I Moving?
Kind of. With two sons in High School we really don't want to move our family. The good news is that San Antonio is only and hour and half from Austin. I'll be getting an apartment in San Antonio and will be spending several nights a week down there. But I can always pop home for a school event or just to plant a big one on Leslie. It isn't like living in Austin and working in Chicago.
New Contact Info

I'm changing both my work email and my personal email. My old emails will continue to work and I'll always get the info@ notes from the blog so there shouldn't be any disruption. I'll be sending the new info out in the next day or so and will be posting it to LinkedIn, Facebook, and Plaxo.
The company mailing address is:
PCI Education
4560 Lockhill Selma, Ste 100
San Antonio TX 78249
Web: www.pcieducation.com
Phone: 210-377-1999
Toll Free: 800-594-4263
Closing Thoughts
I'm looking forward to working with a new team and to exploring a new city. I've always enjoyed San Antonio during conventions and it has been a favorite family outing since we moved to Austin. I'm particularly pleased to be working with a company that serves students with the greatest need.