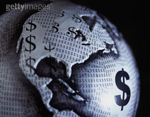 How will the economic downturn affect education budgets? How are executives at publishing houses and education technology firms planning for the recession?
Education Week noted a couple of weeks ago:
"…states across the country are confronting deteriorating budget conditions that have tied the hands of legislators and governors hoping to spare K-12 education…Altogether, the 2009 budget gaps—the difference between what states are expected to collect in revenue and what they're expected to spend on services—will exceed $26 billion, the NCSL says."
I recently conducted an informal poll of 30 Education Industry executives on this topic. They expect that the impact will be far more immediate than past downturns but generally they expect it be moderate.
Most of the respondents are President or Vice President level executives. They come from a nice mix of large and small companies and a combination of print, education technology, and companies that serve those companies. This is not a scientific survey, take it as a directional pulse of what people are thinking as they do their business planning for the 2008-2009 school year.
In today's post I share some of the high level findings. In the next few posts we'll hear the detailed comments from some of the respondents to give you a more nuanced view of the data.
Across the Board – Pessimism
The is an almost universal expectation that the downturn will affect education budgets. 23 out of 30 expect a negative impact on business. Not a single respondent expected an increase in spending and only 7 said the market would remain flat.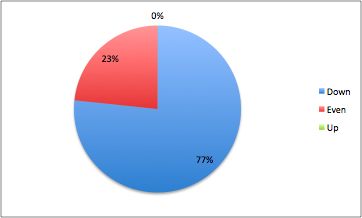 Immediate Impact – Something New
Perhaps the most significant finding is that 63% expect the impact to be either immediate (they are already seeing it) or in the next six months. This is a big shift from past downturns where it took 18 months for the downturn to flow through tax receipts to school budgets.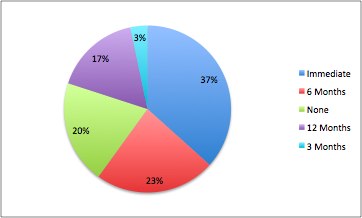 In part this is attributed to the heavy reliance of many districts on local property taxes. With housing prices dropping across the board it is clear locally what the impact will be. Because schools will always try to avoid laying off people if they can many companies saw cutbacks as far back as last fall as districts anticipated lower 2009 budgets.
Another interesting insight is that ed-tech companies think the impact will be longer term while the print companies expect it to be more immediate. My guess is that seeing a couple of adoptions postponed really rocked the print world.
One additional reason cited for a more immediate impact by several people was the impact of increased prices for fuel and food.
Several respondents noted that Federal spending will remain constant or increase after the election in the fall. The downturn will be concentrated in the 88% of education spending that comes from state and local taxes.
Impact Will be Mild
The good news is that the general expectation is that the downturn will be relatively mild. Only 8 of the respondents expected it to be a significant downturn. Several people noted that the impacts are being felt in 23 states this time as opposed to 48 in 2001.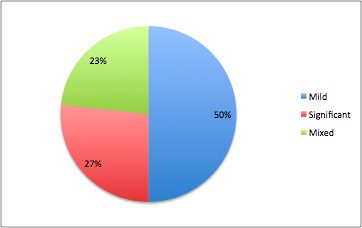 Folks who thought it would be mixed expected to see some areas of their business doing better (e.g. supplemental) while others were challenged to make the number (e.g. big ticket items).
This is one area where there was a real divergence between the largest companies and the rest of the market. 6 of the 8 people who think the impact will be significant are with very large firms.
Districts Will Delay Big Decisions
One explanation for the pessimism of the large companies is that people are seeing districts delay or defer large new projects – even adoptions. This would have a disproportionate impact on the largest companies. Smaller company's products fill in gaps and are easier to justify right now (as long as they target an urgent need). Several respondents noted that they are already seeing this in the decisions districts are making today about the 2008-2009 school year.
About the Respondents
I contacted 74 people on my LinkedIn network and 30 responded.* 67% are Executives with a specific industry focus, 23% are consultants who look across a wide variety of companies and the other 10% were Line Managers or Sales Reps.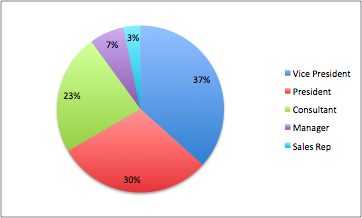 Responses came from a wide variety of companies.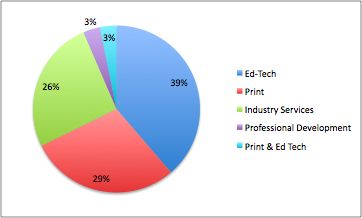 Industry Services includes management consultants, list providers, market research, and executive recruiting.
We also got a nice mix of company sizes.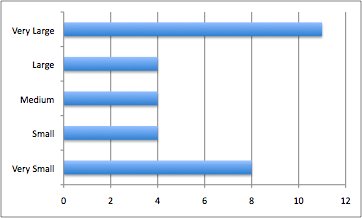 *If you are interested in participating in future straw polls lets get connected on LinkedIn.