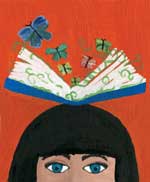 Sundance/Newbridge deserves kudos for their catalog cover contest. It embodies some of the elements of the Web 2.0 aesthetic in a traditional marketing vehicle and shows that you don't have to reinvent the world to harness the power of user generated content.
I found this because the Austin American Statesman reported the winner in this morning's paper (sorry no link on their site). If you think that won't do much for them from a marketing standpoint you would be correct. Yes, it was very cool to see local 6th Grade Nicolette T. win for her work Metamorphosis and I hope local educators will think warmly of Sundance this fall.
But, the real impact is that over 400 other kids submitted entries and their schools were all paying attention to this. Those kids had fun (we assume), enaged their creative faculties, and got their competitive juices going. Sundance got some great ideas from their most important constituency, the kids who learn from their materials. Everyone gets to look at a cool cover for the next 6 months. It was a win all around.
Too often we sit in meetings where an important topic is hotly debated (cover design anyone….). Usually the simplest and best answer to all the hot air is actually a question "Have we asked our customers about this?"
For a related article please visit Web 2.0 Tradeshow Booth at NECC.
Anyway, big GRATZ to Nicolette. Texas rules!