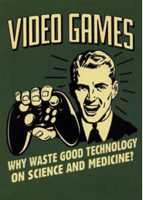 A new free white paper that tackles the practical challenges teachers face when they use video games was released this week by the Software Information Industry Association (SIIA). I was the author of the paper and the co-chair of the working group that produced the paper.
Barrels of ink and pixels by the gigabit have been spilled trying to answer the question "Do video games work as teaching tools?" We started from a simpler perspective – assuming that games can support learning what are the practical tips that teachers can use to boost the odds of success? We interviewed the pioneers in the classroom and at the companies that have developed successful games and summarized their hard won insights in the paper.
I excerpt the executive summary below and over the coming days will post some of the more detailed findings. For the complete paper visit the SIIA's website and download the PDF.