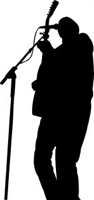 My prior post on iTunes and Textbooks started with this iMix. As I mulled the educational implications over I realized that this was exactly how teachers should be sharing instructional materials.
As a musician and music aficionado I listen to a lot of new music. My tastes range across genres – what draws my interest is solid musicianship, great lyrics, and a good tune. Over 2-3 months I probably listen to 200-300 new songs inspired by recommendations from friends, recommendations from iTunes and Pandora, and stuff I hear randomly. Oddly, I find some of the best stuff on political blogs (Juan Luis Guerra below). I rank the songs using iTunes and from the short list of 5 star songs I create a mix to share. I also toss in a couple of old favorites that I haven't listened to in a while (like Cocker on this mix).
My musical adventures are not typical – but I hope that is why playlists like this are valuable to others. I've done the leg work of culling through a lot of new stuff to find the best (for my ears).