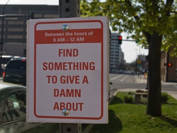 We are collectively discovering the value of social media tools like Twitter. As we do this we wander blind alleys and make surprising discoveries. Forthwith a peeve and a rave about micro-blogging.
Peeve – People who tweet that they are about to do something. So what? How about you tweet after you have done it and have something interesting to say. "I'm off to the mall" Fascinating – yawn.
Rave – Genuine kudos handed out freely. Yesterday a friend (@perludus) had to return a pair of shoes. He tweeted "Three cheers for @Footwise! Returned my shoes that wore through the sole in 2 months w/no questions asked!" Positive energy put into the system always comes back to you. It also makes others feel positive about the world. All that in 140 characters – cool.