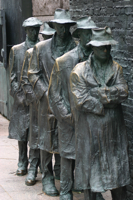 Education jobs fell for the first time since 1959 while enrollments were increasing. There were only three other years in the past 50 years where education employment shrank – and all of them were during periods of declining enrollment as the baby boom petered out.
Business Week has the details.
The decline was -0.9%, or 121,000 jobs lost. It is also the biggest drop by a wide margin in both percentage and actual jobs (the previous record was 1981 where it was down -0.4% or 29,000 jobs).