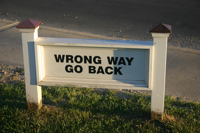 There is a profitability model for companies promoting themselves on Facebook and Twitter. There a lot of people making good coin from the incessant flogging of companies and organizations in social media. It just isn't the companies themselves who are profiting.
Here is how it works in four easy steps:
An executive is at the dentist's office and sees the plea to friend and follow them. A dim light bulb goes off – "we should do this too." Lemming marketing almost never works, particularly when you are following

behind

your Dentist.
Someone in Marketing with an advertising background is assigned the task of building a following in "social media." This is so important that they are given a bonus. The performance metrics are the evil stepchildren of the "brand impressions" school of marketing metrics. Quantity over quality.
A campaign of whinging pleas to friend and follow ensues. We see this in every piece of literature the company products (annual reports – really?), at trade shows ("it only takes a minute!"), and even on flashing freeway signs ("great idea, let me do that while I'm driving…"). Logrolling and sock-puppetry are rampant – many of the "followers" are marketing people at other companies playing the same game.
The metrics are hit, the bonus is paid. PROFIT!
This whole scenario is so wrong on so many levels it makes my teeth hurt. Here are some thoughts to help reframe this approach that map back to each stage of the process above.