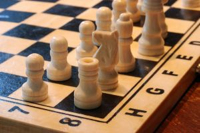 Interactive Whiteboards (IWB) are all the rage in education right now. Market penetration is about 15% of classrooms and climbing like a rocket. Is it time for publishers to jump on this bandwagon? If so, which digital whiteboard is right for you?
I spent the better part of my time at the National Education Computing Conference (#NECC09) in Washington DC this week attending presentations put on by Smart Technologies and Promethean. My goal was to evaluate whether PCI Education should embrace these tools as part of our publishing plan.
The Good
I'm excited about what IWB's can do for children with intellectual and developmental disabilities (IDD) (the market PCI serves). The ability to project large images and the engagement that comes with directly interacting with the media have the potential to improve instructional outcomes. The boards are kinesthetic, visual, and with the addition of speakers even auditory. All students can benefit from this, but IDD students in particular should get a boost.
Both companies have created on-line spaces where teachers can share lessons they have created. Promethean has the edge here – they have over 350,000 teachers in their community Promethean Planet, making it one of the largest on-line teacher communities in the world. Smart's Teachers Hub is smaller but has a nice mix of resources and professional development.
Another very strong development is a range of tools that are platform independent. One of the metaphors that the white board companies are batting around is that their toolsets (IWBs, response systems/clickers, and audio projection systems) are the "operating system of the classroom." The problem from a customer standpoint and a publisher standpoint is that realistically you only want to support one OS. RM's Easyteach has long had a suite of tools that run on any board. Promethean is promising that if you develop with their tools that the projects can run on other's boards. From a publisher's perspective this is good – but the reality is that few schools will want to invest in a white board which includes software and then go buy a different system. A solution exists today – but for this market to mature more work remains in this area.
The Bad
The tools are still evolving. Many of the examples that I saw were eerily like HyperCard projects from 15 years ago. The gap is that there isn't very much database functionality behind all this – just a flip chart based screen by screen metaphor. Both companies will kick me for saying this – but the closest application to what they provide today is PowerPoint.
Doing animations, and creating interactions seems to involve a series of tricks and work-arounds. Teachers who embrace the technology won't have any difficulty mastering these techniques – but for the rest of the world the tools are not quite as robust as they need to be for easy local authoring. With the amount of investment going into this space it is only a matter of time before the products mature.
If I were in the white board companies' shoes I'd go buy HyperStudio and build out from there. If I were a teacher and wanted to author a bunch of stuff this is the tool I'd use. Maybe a new entrant like Polyvision's Eno will will do this – they seem to be willing to break the mold and they don't have too much invested in a proprietary tool set.
Very little energy has gone into protecting copyrighted materials even as both companies are wooing publishers. Digital Rights Management is a hornets nest and I can understand why the white board providers want to shy away from it. I'd give the edge to Promethean on this one – they have created a "safe" mode where a publisher can release materials but local printing can be blocked (even screen scraping).
A side note – in many cases this is not an issue of the publisher wanting to place unreasonable restrictions on the use of materials. For a lot of older content they simply don't have the rights for open digital distribution.
The Ugly
As Doug Stein wrote on this blog recently the biggest danger of focusing on IWBs is that without systematic reform and professional development it reinforces the Sage on the Stage teacher role.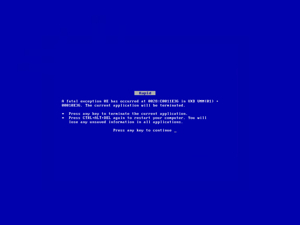 At its root the competitive arena is a complete rehash of the Mac vs. Windows battles of the early 90's.
The companies are going at each other with the same arguments that Apple and IBM/Microsoft used. Smart touts their worldwide market share (60%) and the need for kids to use the same tools they will encounter in the workplace (see IBM PC marketing). Promethean pushes the meme that their tools are designed specifically for education and are therefore more appropriate for schools (see Apple education marketing). On this one I have to side with Promethean. Their tools do look much more appropriate for the classroom and their student response system (clickers) are much more advanced for input and assessment.
On the customer side we are seeing administrators make the same mistake of assuming that the technology in and of itself has some magical quality that will change and improve what happens in the classroom. In many cases this is driven by a hard nosed career calculus – in the early '90's one of the most visible statements a new Superintendent could make was putting computers in schools. It was expensive, visible, and doable within the 3 year average job tenure they had. IWBs fit the same bill.
Sadly what we learned was that technology without extensive professional development changed absolutely nothing. This was the real lesson those who want to learn from history should take away from this battle. Fortunately Secretary Duncan appears to get this and while he has touted white boards as something ARRA funds should go towards he has also stressed the need for training.
Summary

What do I recommend?
Publishers should start working with IWB toolsets and figuring out the design challenges associated with creating interactive content in large screen format. IWBs are here to stay and their penetration into classrooms is going to climb. Getting familiar with the tools and how your materials can be developed so they are IWB friendly is important. I'd pick one of the cross-platform toolsets – Promethean or RM – or even just work in PowerPoint or HyperStudio.
On the school side I think both solutions are viable although I'd skew towards the Promethean solution since they are so focused on just the education market. It shows in their on-line resources, their development tools, their peripherals, and in the maturity of their approach to the market. New entrants like Polyvision's Eno also deserve a close look – they have a smaller footprint in the classroom and on your budget.