By Randy Wilhelm, CEO Thinkronize – Guest Blogger
Did George Washington's dog play multiplication math games with Abraham Lincoln's animals during the Civil War?
I would guess the answer is a resounding no. However, a new Index reveals the most popular keywords that K-12 students are searching for on the Internet. It includes these terms in the top 15. netTrekker d.i.'s quarterly "Top 15 In-School Search Index" for spring 2008 will be announced on Wednesday, with Games coming in at #1, Dogs at #2 and George Washington, at #5.
Search engines like Google™ and Yahoo® frequently pull together lists of the most popular keyword queries, underscoring our nation's interests and fixations and showcasing trends and patterns. This index, however, offers a different view—a real-time school-based mirror of what our children are searching for—both for academic purposes and out of genuine curiosity.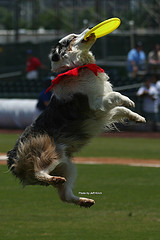 With five school age kids of my own, an academically curious wife and wireless-device-addicted me, I think our humble family averages about 50 searches a day. And, as my sons are crazy about electronic games and occasionally pine for another dog – I can certainly understand the top results of the netTrekker d.i. ranking. Although it would have been heartening to see more academic search terms in the top 5, it is comforting to know that kids will be kids, whether at school or at home.
Every day, across the nation, our digitally native students are punching search terms into their school's Internet browsers. Now, with this first-ever quarterly index, we have new insight into what our nation's students are learning about, care about and want to know more about.
Following are the top 15 most active keyword searches in schools for the spring quarter, from February through April, 2008:
Rank Keyword
1 Games
2 Dogs
3 Animals
4 Civil War
5 George Washington
6 Holocaust
7 Abraham Lincoln
8 Multiplication
9 Math Games
10 Weather
11 Frogs
12 Fractions
13 Planets
14 Sharks
15 Plants
About Thinkronize – They are the creators of netTrekker d.i. the #1 K-12 safe search engine.
——————–
Lee's Comment
For publishers, teachers, and students who are building on-line activities this index will be a great asset. By using these popular search terms as starting points for long-tail keyword phrase mining you will be able to find phrases that are easy to rank high on.
The Dig function in Wordze is one place this would be invaluable. For example – if you start with "George Washington" you can find 3094 phrases that are possibly related. While George Washington" would be extremely difficult to rank for (30,000+ searches a month and 18,700,000 pages) "George Washington Biography" has much less competition (3,899 searches a month and 440,000 pages). Quantitatively this means the second phrase has 10% of the search volume but only 2% of the competition. With web savvy writing you could create content that would surface at the top of that list much more easily than plain "george washington."
Big kudos and thanks to nettrekker for creating this index.