Information Overload is a serious problem in our culture today. People are frustrated and overwhelmed by the fire hose of information they are trying to absorb. But, as the American Philosopher Ann Landers was fond of saying:
"No one can take advantage of you without your permission."In summary: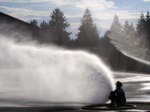 Personally we need to take control of our information diet. We need to discard our old paradigms and seek information only when we need it.
As publishers we need to create products that equip students to be effective in the conversation economy.
Professionally we need our customer's permission to have a long-term conversation with them.
I've pulled together some resources that you can tap if you are interested in learning more about this topic.
Blogs
43 Folders – Great site for productivity – a fan of David Allen's work.
Unclutterer – Great daily tips on how to unclutter your life. We can all use this one.
Seth Godin – Marketing maven and a great blog with short punchy articles. It never takes more than a minute to read.
David Armano – An incredibly crisp and visual thinker on marketing. He coined the phrase "conversation economy."Tim Ferriss – Author of The 4 Hour Workweek – tips, downloads, and worksheets.
Pick The Brain – Ideas for how to be more effective. Another David Allen acolyte.
Marc Andreeson – Wit and wisdom from the founder of Netscape.
Steve Pavlina – Personal Productivity guru. He has some odd ideas but they are worth reading even if it only stretches your thinking.
Books
"Getting Things Done: The Art of Stress-Free Productivity" (David Allen)
"The 4-Hour Workweek: Escape 9-5, Live Anywhere, and Join the New Rich" (Timothy Ferriss)
"Power Sleep : The Revolutionary Program That Prepares Your Mind for Peak Performance" (James B. Maas, David J. Axelrod)
"The Long Tail: Why the Future of Business is Selling Less of More" (Chris Anderson)
"Wikinomics: How Mass Collaboration Changes Everything" (Don Tapscott, Anthony D. Williams)
This was an interesting series of articles to write and it represents a summary of what I've learned over the past couple of years. I hope that you got some insights to help you personally as well as some ideas that you can use professionally.
Information Overload Series
Part 1 – It's all in your head – really
Part 2 – A cure for "a poverty of attention"
Part 3 – 10 Ways to Build Instructional Products For 21st Century Skills
Part 4 – 10 Ideas to For Marketing & Selling In An Age of Infinite Input