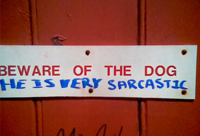 What are the missing skills needed in education publishing to create 21st Century products for 21st Century learners? I penned a thought experiment for EdNet on this topic.
Education Publishing's Own 21st Century Skills Gap – Change Begins At-Home Edition
Fun Architects, Content Marines, Talent Wranglers, and Shibboleth Hunters all get shout outs.
It was fun to step back and think about "the dog that didn't bark."
What gaps do you see that will require new skills?